London Fashion Week Events Open to the Public
Enjoy London Fashion Week Even If You Don't Have Tickets!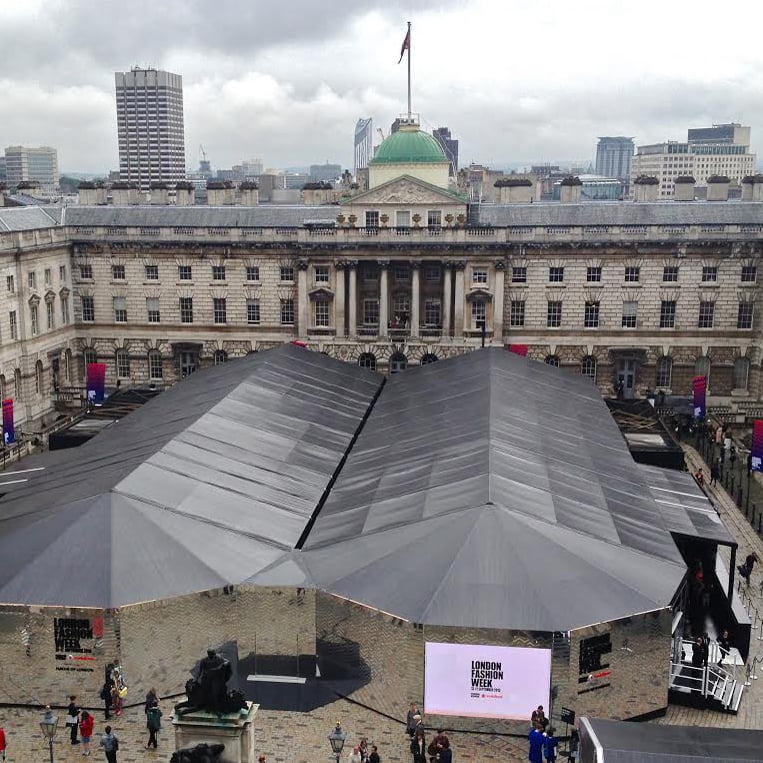 The tents are pitched, the Champagne is chilling, and designers are putting the finishing touches to their Autumn/Winter 2014 collections. London Fashion Week has begun, with J.JS Lee kicking off five days of fabulous fashion bright and early this morning. But what does this mean for those who don't have tickets for the shows and passes to the exhibition? Well, you can still enjoy loads of what LFW has to offer, from live streams to LFW cocktails. We've pulled together a list of just some of the cool fashion opportunities coming your way for LFW. Start planning that street style look now!
Watch the London Fashion Week Live Streams
Skip the queues, and avoid the circus with the many live streams that will bring LFW to the masses. You'll be able to view over 30 shows right here at POPSUGAR (see above), plus keep an eye on the official British Fashion Council Twitter account and the London Fashion Week website for more live LFW coverage. Burberry will stream the Burberry Prorsum show live on their website, with a chance to order items from the show as soon as it ends!
Show Your #LFWlove
The first day of LFW is also Valentine's Day, and to celebrate, if you share your favourite fashion image, runway look, or campaign using the hashtag #LoveLFW, you could win two tickets to Vodafone London Fashion Weekend. You may also see your images shared on a collaborative Pinterest board or on Twitter.
Watch the Topshop Unique Show in 3D
Topshop is joining forces with London-based 3D agency Inition to allow shoppers at the flagship store in London's Oxford Circus the chance to experience the Topshop Unique show in a unique 3D environment. Forget live streaming, you'll take your seats around the virtual catwalk as if you were at the show itself. Visit the store on 16, 17, & 18 February for your chance to take part.
Snag a Hand-Me-Down From a Fashion Editor
Visit the pop-up shop from designer website Hardly Ever Worn It for your chance to pick up a vintage piece from one of the fashion elite. A whole host of big names have donated pieces . . . though most want to remain anonymous! The store is open for the duration of LFW at 29 Duke Street, opposite Selfridges. Email LFW@hardlyeverwornit.com to register your interest and find out more!
Discover Some Brilliant Baltic Style
Estonia won last year's International Fashion Showcase, and an exhibit at 180 The Strand will be showcasing work from four up and coming design talents from the country, alongside other international ones to watch. See the work of Kart Poldmann, Marit Ilison, Scheckmann, and Jo Nurm before they become household names! The exhibition is open from 10 a.m.-6 p.m. on Feb. 13-23.
Try a Fashion Week-Themed Cocktail
One Aldwych is a stone's throw away from Somerset House, which not only houses London Fashion Week, but also the must-see exhibition Isabella Blow: Fashion Galore! To celebrate both these things, the hotel will be offering up an exclusive "Fashion Galore" cocktail for the week, and there'll also be offers on exhibition tickets and special room rates. Head to the hotel bar to try the heady mix of gin, rose, jasmine, lemon, and grape, and you'll also see the amazing floral arrangements inspired by the classic fragrance Fracas.
See What London's Fashion Students Are Up To
The London College of Fashion is exhibiting work from its MA students at Victoria House until Feb. 16, giving you a chance to see what's to come from some of the city's most promising new fashion talents. Visit the University of Arts website for more information. If you can't get to London, there'll also be a live stream of the show.
Head to a Fashion Exhibition
Somerset House's Isabella Blow exhibition is only one of a huge number of chic exhibitions in the capital. Until Feb. 21, the first ever bus stop roof exhibition will take place on The Strand, featuring work by Juergen Teller. Ride the top deck of a London bus to get the best view! You can also see amazing fashion photography at Bailey's Stardust at the National Portrait Gallery, explore London club culture at Club to Catwalk at the V&A, or give Kate Moss a belated birthday nod with a trip to 40 – A Kate Moss retrospective at the Imitate Modern Art Gallery. There's also a look back at a British design legend with Hello, My Name is Paul Smith at the Design Museum, and finally, princess dresses (literally) at Fashion Rules at Kensington Palace.
Visit The Shop at London Fashion Week
The tents and exhibitions may be closed off to non-ticket holders, but did you know the rest of Somerset House's offerings are open to the public? As well as some amazing people spotting, you can indulge in a bit of shopping at The Shop, which will showcase the work of some of the capital's coolest design talent, including Markus Lupfer, Sophia Webster and House of Holland.
Be a Street Style Star on Regent Street
The "Instant Glam" event gives Regent Street shoppers at the French Connection, Superdry, United Nude, and Armani Exchange the change to win a £200 Regent Street gift card. All you need to do is take a stylish selfie in front of an Instant Glam board and share it on social media with the hashtag #RegentStreet and the words "Instant Glam."