London Fashion Week A/W 2009: Mulberry
Emma Hill presented her second collection for Mulberry today above the store on Bond Street. The room was decorated in black and violet with glitter cockroaches adorning the walls and faux trees. Hill looked to her own youth for inspiration citing 'mean teens' as her main subject. The linr included student favourites such as duffel coats, chunky knits and short woolen skirts. These are, of course, the clothes that we really want to wear. They're stylish, casual, yet strategically planned. It's essentially the Kate Moss impact where British women are striving to look like they couldn't care less, all the while remaining at the forefront of fashion.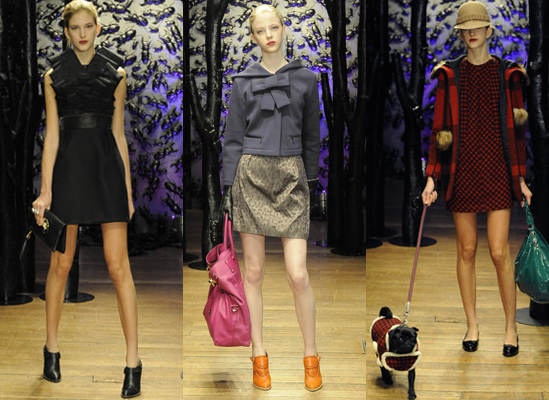 To see images from the collection, just read more.
Hill elaborated, "I love fashion and I want to wear fashion, but it's something to be enjoyed, not be intimidated by. Most women I know want to feel better, cooler or sexier — and they don't want to look like fashion victims."
The Mulberry girl became a bit rebellious this season with grungy elements like lumberjack shirts, biker jackets and skinny jeans reflecting an American influence. Accessories, for which Mulberry is clearly the most famous, stuck to the classic designs but in new proportions and colours, for example a neon oversized Bayswater clutch. The design house has also upped it's footwear game with loafers, round toe knee boots and funky ankle boots. What do you think of the collection?
Photographs by Chris Moore, courtesy of Mulberry.