Look of the Day: London Fashion Week Day Four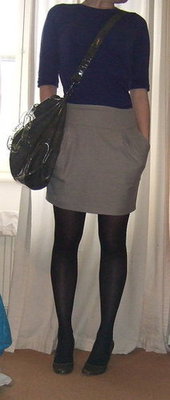 Yesterday I decided to get back to go for a smart look for the Mulberry presentation, so teamed a tulip skirt with my best pair of heels. I also realised that I haven't shown you the giant bag I have been hauling round with me! My life is pretty much contained within this bag, from my show invites, to my notebook, to my oyster card I would be lost without it!
Here's what I'm wearing:
Shoulder Bag: H&M
Top: Topshop
Skirt: Topshop
Tights: Marks and Spencers
Shoes: Jimmy Choo
Remember you can share your looks with me by following this link, or using the widget on the right hand side of the screen.