Look of the Day: London Fashion Week Day Three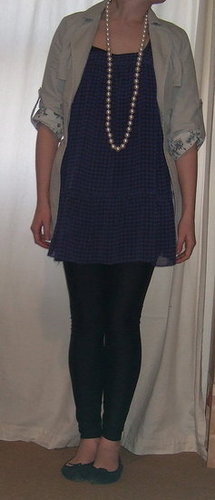 The sun shining yesterday inspired me to wear a more summery ensemble (maybe foolishly) so I wore a spring trench coat with floral lining. My feet were starting to ache so I decided to wear flats with shiny tights and a loose houndstooth top.
Here's what I'm wearing:
Trench coat: Topshop
Houndstooth dress: Topshop
Pearls: Pop boutique
Leggings: American Apparel
Pumps: Repetto
Don't forget to share your looks with me! Either use the new widget on the right hand side of the screen or follow this link and upload your outfit picks!
What do you think of my third day style for London Fashion Week?