Look of the Day: Miu Miu Tote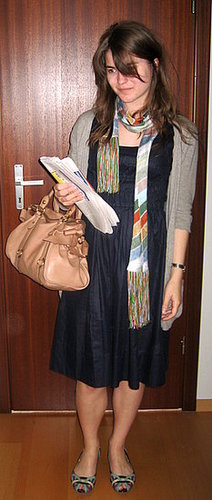 In my opinion, you cannot beat a good Miu Miu tote because of the soft leather and the funky style. Sugar reader adhusia teamed hers with Miu Miu shoes for her breakfast style.
Here's what she's wearing:
Navy dress: Etam
Grey cardigan: Comptoir des Cotonniers
Scarf: Missoni
Shoes: Miu Miu
Bag: Miu Miu
This month is going to be all about handbags here at Fab Sugar UK so to keep with the theme we'd like you to show us your handbag and its contents! Post pictures of your trusty day tote here with its contents and maybe you will make it on to Fab Sugar UK. This also provides you with the perfect opportunity to be nosey in other people's bags!