Look of the Day: Stylish in the Rain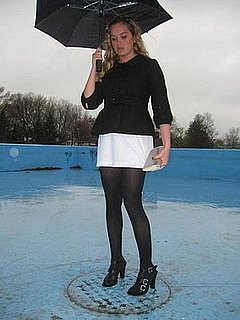 The UK weather at the moment has gone a step passed April showers with the rain rarely letting up. Good job then that some people (including sugar reader mulatoqt) have got dressing for the rain down to a fine art. I love the shoes! What a great way to incorporate strappy shoes in to a Spring outfit.
Here's what she's wearing:
Headband: forever 21, $10
Dress: H&M, $40
Tights: Walmart, $8
Shoes: Nine West, $115
Jacket: H&M, $50
Clutch: some Globo brand, I actually think it's brandless, $20

Everyone else, submit your looks and I might feature you on FabSugar! If you live outside of the US and have a Fab outfit to share, join the Overseas Fashionistas Group, to submit a Look in this group learn how to post a blog.