Look for Less: Paul & Joe Sister Tunic
Look for Less: Paul & Joe Sister Tunic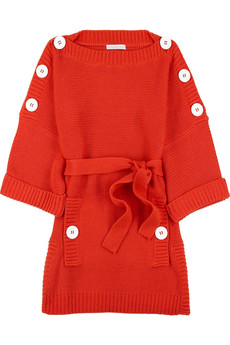 Knitwear is always on trend for Autumn/Winter, especially in the UK where we're forced to layer up to prepare ourselves for the constantly changing weather pattern.
This season at Paul & Joe Sister we see the nautical trend from Spring take a slightly more subtle turn for this Tolstoi tunic sweater (£100). It's one of those items that looks so cosy and warm that you can imagine a cool winters day spent at home wrapped up in it with a pair of leggings and thick socks.
Unfortunately, £100 seems like quite a steep price tag but fear not, we've found the look for less. To see it read more


We previewed the Autumn River Island collection last month but now it's beginning to filter in to stores. This kimono cardigan (£34.99) has just arrived and is a great alternative to the Paul & Joe Sister tunic.
It may not be the most chic of items but it's great for day wear with skinny jeans tucked in to knee high boots or with tailored trousers and heels. I love the big statement buttons.
What do you think?