Look for Less: YSL Caged Heels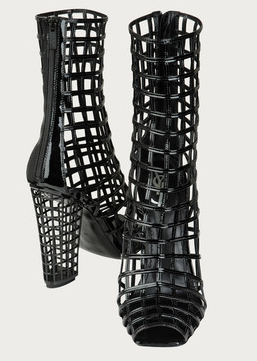 This season's key footwear by Yves Saint Laurent are these caged ankle boots (£905). The boots have a caged heel and zip back detail making them the ultimate statement footwear.
They feature in one of the Claudia Schiffer adverts for this season where they are teamed with a coat dress. As she proves, it's best to keep the rest of your ensemble quite plain and let the boots do the talking!
To see the look for less, just read more.






Always one to quickly jump on catwalk fashion Topshop have created these rather beautiful heels (£70). They're not quite as extreme as the YSL version (the actual heel does not have as much detail) but they're caged with a zip back detail.
The platform and open toe makes these shoes amazing in their own right, also at a fraction of the YSL price tag. What do you think of the look for less, do you prefer the Topshop version?