Lourdes Leon Starts Material Girl Fashion Blog for Clothing Line with Madonna
Lourdes Turns Fashion Blogger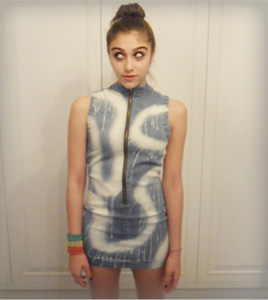 Earlier this year, Madonna announced plans for a clothing line to be named 'Material Girl' which was inspired by her daughter, Lourdes', style.
The collection will be available from Macys from August and sketches of the collection have already been revealed. Lourdes, or Lola as she calls herself, has now started a blog about the collection which she writes herself about things she loves. For example, she writes "I am totally obsessivo about 80's shorts… You know the kind that makes your butt look kinda big, with a grunge-looking shirt tucked in. It's kinda nerdy but I love it."
Lola also asks about rompers (playsuits), "So I want to know what you guys think about rompers… is that like a hit or miss, 'cause I'm not sure. If you comment, be sure to tell me what you think." It's definitely worth taking a peek at her blog, but you might, like me, find yourself feeling jealous of a 13 year old...