Love it or Hate it: Karl Lagerfeld Teddy Bear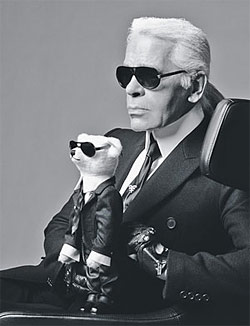 If the Chanel fishing rod and tennis racket were not enough to satisfy your Karl Lagerfeld design desires then maybe a Karl Lagerfeld teddy bear will be right up your street! This month's issue of W magazine reveals the cute bear mini-Karl costing $1,500 each. It is a limited edition design with only 2,500 in existence.
Karl markets the bear himself saying, "Bears are very nice, as long as you are nice to them … Nothing scares me more than people with some doll collection. Frightening."
W magazine describe the bear as, "imperious, lethally chic and yet totally endearing," but what do you think of it? Has Karl's creativity taken him a step too far or are you running out to get one right now?