It's a Love-Hate Thing: 12 Designers Weigh In on Kate Middleton's Style
It's a Love-Hate Thing: 12 Designers Weigh In on Kate Middleton's Style
Love her style, hate her style, or love to hate her style: it seems that quite a few fashion designers have had something to say about Kate Middleton's sartorial choices. Roberto Cavalli is the latest to speak out about the Duchess of Cambridge, and he's hoping to bring out her sexier side. Some industry insiders praise her for wearing high street, while some wish she'd fully embrace the grandeur of "being a princess." With her due date quickly approaching, we can expect even more fashion types to weigh in on her maternity and postbaby style. But for now, a look at Middleton's effect on the fashion world below.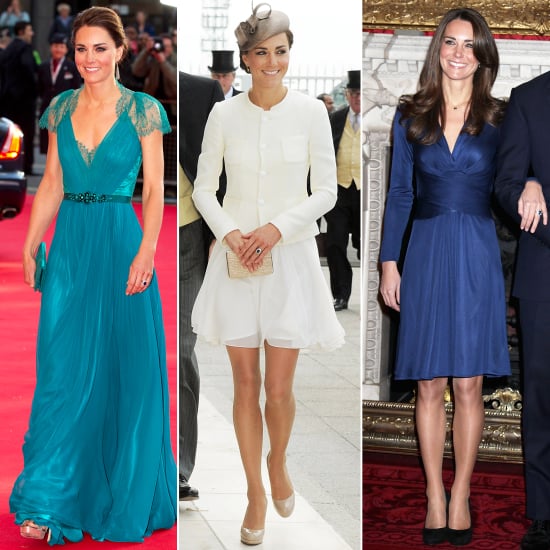 Christopher Kane
"It's a shame she doesn't wear more designers. I don't really like the high street getting so much of the credit. I understand that there would be an array because you need to relate to so many people in the market, but she is a princess. If I were a princess, I'd be like, 'Oh yeah, bring it on.'"
— in a November 2011 interview with WWD.
Karl Lagerfeld
"Kate Middleton has a nice silhouette and she is the right girl for that boy. I like that kind of woman, I like romantic beauties."
— in an interview with The Sun.
More designers weigh in, here.
Vivienne Westwood
"I don't have any advice for her, [although] I think it would be great if she wore the same clothes over and again, because that's very good for the environment and it would send out a very nice message."
— at her Fall 2013 show.
William Tempest
"I think it's great that she is sticking to British designers but they're all big names like Mulberry and McQueen. It would be great if she supported younger British designers because she could and it would make a huge difference to them. She has the power to do that. . . . I don't think that she is brave enough — obviously because she's now part of the Royal Family, there's all the protocol she has to follow and she is going to stay in line."
— in a May 2013 interview with Grazia.
Natasha Rufus Isaacs and Lavinia Brennan of Beulah London
"Kate is a beautiful woman inside and out, and a very powerful ambassador for British fashion."
— in a February 2013 interview with Grazia.
Sarah Burton
"Out of such terrible, tragic times and from under this dark cloud came that dress."
— on designing Middleton's wedding dress and the success she feels is a "gift" from Alexander McQueen.
Henry Holland
"We love Kate, she's gorgeous, she's a great ambassador for British fashion and the way that she chooses to wear not just established labels like Alexander McQueen but the way she also chooses to wear up-and-coming designers like Erdem and Christopher Kane. . . . Michelle Obama was the first person to really showcase design talent and put it on the world stage because she has that ability and I think Kate's doing a similar thing which is great and very exciting."
— in defense of Middleton in February 2013.
Roberto Cavalli
"A princess should be sexy. She is young, she is beautiful — I would like to create something special for her, but nothing too bold. I would like to prove to the world that Roberto Cavalli can dress a princess. Maybe I would use a print, keeping it young, sophisticated, and sexy. Just because you are a queen or princess, it doesn't mean you can't be sexy."
— in a June 2013 interview with Vogue UK.
Katherine Hooker
"She doesn't take free clothes, and I've heard that from other people who sent her things. She always comes to the shop, which is nice. And we've sent her a few things when she didn't have time to come in. She's just an incredibly lovely person."
— in a March 2013 interview with HuffPost Style.
Camilla Al Fayed of Issa
"It absolutely sky-rocketed the brand on a global scale, but it was too much. Demand was so huge the business couldn't cope. If Kate wears a Zara dress, these huge companies have the backing to follow through. Issa was basically run by interns, students, and Daniella [Helayel, the label's founder and former designer]. There was no business model."
— in an interview with Vogue UK.
Donna Karan
"Kate Middleton is elegant, sensual, timeless."
— in a May 2013 interview with WWD.
Matthew Williamson
"Kate isn't a fashion bunny. I don't know why everyone in fashion is waiting to see what she wears. I'm, like, thinking: get over it."
— in an interview with the Telegraph.