Make Up For Ever Eyeliner
Product Review: Aqua Eyes From Make Up For Ever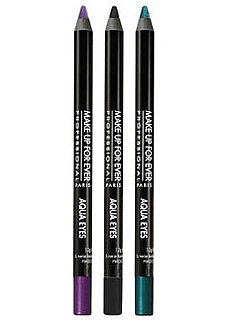 All hail Aqua Eyes! Just an eye pencil? — heck no! This waterproof eye liner lasted throughout a two-hour nap and a workout without the faintest drip or smudge. I'm so smitten, that I could hardly wait to share the news of my grand discovery.
On of my biggest quibs with pencil liner is that without fail a few hours after it's on, it runs halfway down my eyes. By mid-day, I look like a mess, and by the end of the day, forgetaboutit, the rims of my eyes are stark naked. This genius liner however, is so creamy, that it glides on without any skipping, to the point where you can even blend it like an eye shadow until it sets. Yet, once it's on there, it stays put for hours.
In all honestly, I'm not much of a waterproof makeup fan. It's generally a pain to take off and when it's finally removed, your eyes look and feel like they've been through a war. However, this isn't the case at all with Aqua Eyes. It defies the waterproof makeup stereotypes and washes away just as easily as a non-waterproof eye liner with soap (tip: if it's oil based it's even better), water and OK, a touch of elbow grease. Aqua Eyes is available in the UK in fourteen shades and sells for ₤11.50 each. What's your favourite eye liner?