Making Liberty Documentary on Channel 4 Starring Ed Burstell
Forget Mr Selfridge, Liberty's Head Honcho Is TV's New Department Store Star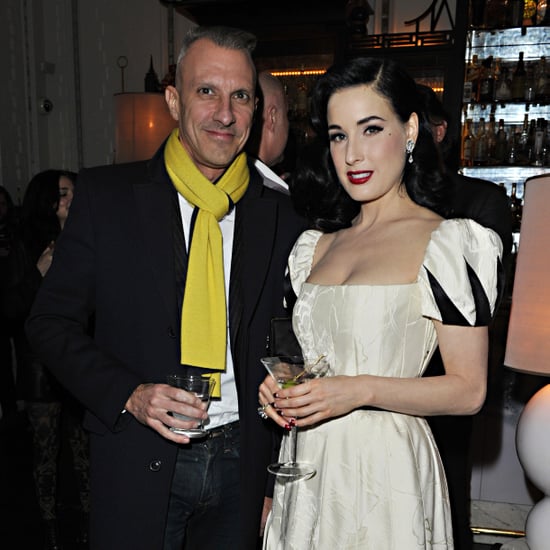 Liberty's Ed Burstell is set to become as famous as the department store he manages. The MD of the London landmark store (pictured above with Dita Von Teese) is the subject of a new documentary, Making Liberty, for Channel 4.
According to WWD, Burstell will feature alongside Liberty's head of marketing and communications, Kate Brindley, and various team members, as cameras follow them as they prepare for Christmas — Liberty's busiest period.
This is the latest in a long line of TV series that look behind the scenes of British heritage brands, from ITV's drama Mr Selfridge to the BBC's Inside Claridge's (which actually inspired this new project). In many ways, Liberty is the ultimate heritage brand, with a knack for keeping a wide customer base happy by combining established favourites (like the famous Liberty print fabrics and the Christmas shop) with a surprisingly modern outlook when it comes to fashion. With a background that includes stints at Henri Bendel and Bergdorf Goodman, Ed Burstell has been instrumental in making sure that Liberty's fashion edit is one of the strongest in the country, with a heavy focus on British designers and new talent, coupled with an accessories department that will make your eyes water.
For Burstell, fashion has always been the main focus, and it sounds like this will be evident in the documentary. "I think it will come out as a nice balance of the store's family values and culture, but also being very modern and relevant," he told WWD. "There's a real focus on the business of fashion, they will be filming us at all the fashion weeks, seeing the strategy and the buying meetings; it will be a balance of that and the people that go into it."
Making Liberty will be on your screens this Autumn. We can't wait!