Manchester School of Art at Graduate Fashion Week
Graduate Fashion Week: Manchester School of Art
The third day of Graduate Fashion Week got underway with a show from Manchester School of Art. The style of this Northern city is very individual with a vintage twist, so I had high expectations for these young designers. A big shot of colour came with Ashley Farrall's printed designs. Here colour blocking was used in funky shapes on jersey fabric for an individual style.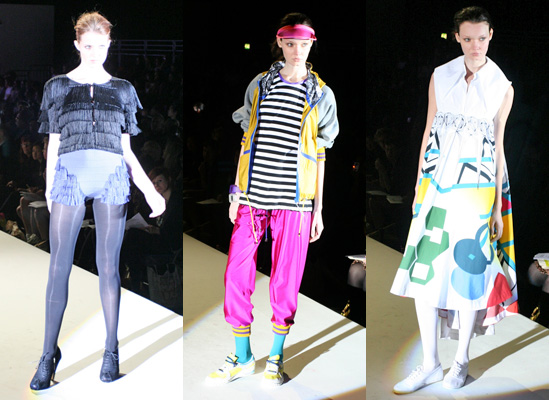 For further images, just read more.
Sarah Burton added a lot of movement to her pieces which were fringed with tassels. She had tiny satin hot pants, button back knits and minidresses in midnight blue that wouldn't look out of place on Sienna Miller.
A very commercially viable collection came from Rebecca Carr who created a ladylike line with a cherry blossom print. Her designs included swing coats, and paper bag trousers with every look including a rosette. I am now lusting after her printed culottes!
Nia Jones also used a print on her designs of a Da Vinci style drawing with a twist. Using red and pink it was printed on to white and red with the piece de resistance being a Union Jack skirt. Holly Russell closed the show with her magpie topped creations. The looks had hair-fringed shoulders and some pieces used a gorgeous blue shade.
Photos by Kirsten Borst