Marc Jacobs Autumn Collection at New York Fashion Week Autumn 2010
2010 Autumn New York Fashion Week: Marc Jacobs
After reportedly recruiting models from the street and turning attention away from celebrities in the front row, Marc Jacobs presented his Autumn collection in New York yesterday. The designer looked smart for the show in a suit which reflected the feeling of the whole line. Jacobs went for a more sophisticated look than we've seen in previous years with '50s influences. Hemlines were knee or full length as the maxi cemented it's return to la mode.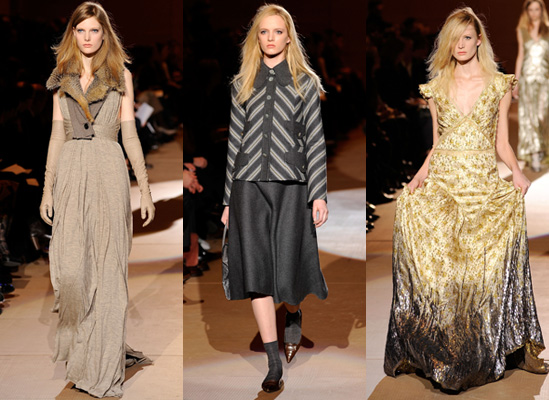 Jacobs commented after the show, "It's refreshing to see something that isn't trying so hard to be new. There's so much striving for newness now that newness feels less new." There were still typical touches by the designer including trompe l'oeil bows, lingerie layers, clear plastic trench coats and knit dresses. Although this collection didn't see Jacobs pushing boundaries, the attention was firmly on the clothes and they showed his commercial awareness as well as skill. What do you think of the Autumn line?
For further images from the collection, just read more.