Marc Jacobs, Heels, Skirts, Rick Owens,
Fab Blab: Marc Jacobs on Why He Wore Heels and Skirt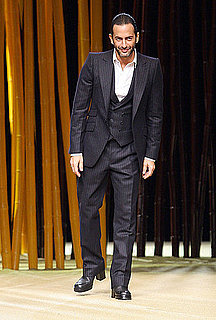 Throughout the fashion weeks Marc Jacobs confused me with his unusual clothing choices. Firstly he wore a skirt during New York Fashion Week and then he wore heels to take a bow at Louis Vuitton.
Today, he spoke to The Cut about his reasons explaining, "I always get nuts when women go, 'Oh, men don't know what it's like - women in heels, women in skirts, women in dresses - what it's like to suffer for fashion.' Although I've always wanted to be taller, which is the real reason I wore them, I also thought I can show that I, too, will suffer for fashion."
Jacobs went on to explain that he didn't actually feel like he was suffering after all. "It wasn't really suffering. It was a pleasure to be able to achieve a look that I wanted to look like."
In fact, he seemed to enjoy the experience so much that I wouldn't be surprised if we saw more of it. "I like wearing skirts and high heels and stuff like that. I don't see it in a way that it's like women suffering. I see it in a way it's like women get to have all the fun." Oh, and in case you were wondering he opted for a pair of Rick Owens heels.