Marc Jacobs and Victoria Beckham
Fab Blab: Victoria Beckham and Marc Jacobs in Conversation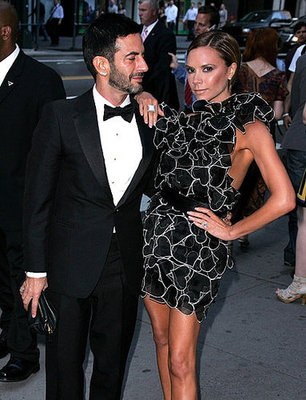 Do you remember when Roberto Cavalli couldn't recall Geri Halliwell's name in an interview after designing the Spice Girls' tour costumes? Well, that's just one reason I always feel a bit dubious about "friendships" between designers and celebrities.
It seems the same can't be said about Marc Jacobs and Victoria Beckham who have grown an unusual relationship over the past few years, with her starring in very memorable ads for his design house.
I would love to be a fly-on-the-wall whilst this pair chatted away, and with Victoria's famous sense of humour I don't doubt that they share a few laughs. Whilst I can only dream of gaining such access, the Bergdorf Goodman magazine has a good alternative.
To hear a sneak preview of their conversation, just read more.
The Spring issue of the publication contains a conversation between the two friends, offering a brief insight in to their world. WWD have today provided a preview as they discuss Marc's Harper's Bazaar shoot and how the customer is the most important person to him.

"The customer is the woman who wants a great dress. She's not concerned with what a critic thinks, or what a gossip column says about my boyfriend."
Mrs. Beckham also discussed the problems she faces with the media.

"When you are well-known in the tabloids, and you're trying to break into a new industry, it makes it very difficult, because people get preconceptions, and so everybody thinks that I am a miserable bitch who goes shopping every day."