Marks and Spencer Christmas Advert 2013
Go Behind the Scenes of the M&S Christmas Ad With Rosie, David, and Helena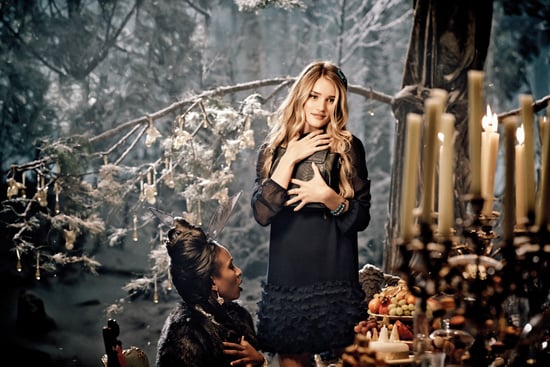 Marks & Spencer's legendary Christmas advertising campaigns have always been a festive highlight, and this year they haven't disappointed us with a magical advert that pays homage to fairy tales. It's a case of "once upon a time at M&S" for this year's celebrity stars Rosie Huntington-Whiteley, David Gandy, and Helena Bonham Carter, who take us on a journey from Wonderland through various famous storybook settings. See the full video, plus an interview with Rosie and more images from the campaign, as you read on.
Starting at a tea party with David making a very dapper Mad Hatter and Rosie playing a particularly naughty Alice, the models then take us on a magic-carpet ride (shedding a few layers on the way) before landing on a very familiar-looking road. A change of character or two later, it's just left to Helena to completely steal the show as . . . well, we won't spoil it for you! Watch the full advert now.
Arguably, the real star of the show is the West Highland Terrier who Rosie is tracking down through the advert, though she would apparently have preferred a sausage dog!