Marks & Spencer Launch Shwop Drop Shwopping With Joanna Lumley
Absolutely Eco-lous — Marks & Spencer Launch Shwop Drop With Joanna Lumley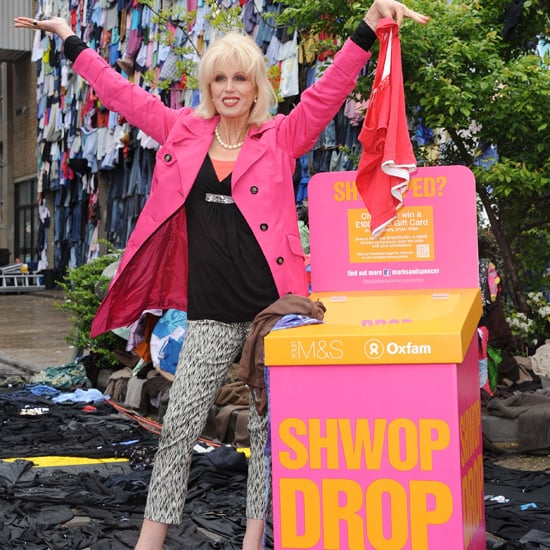 This morning in London, Marks & Spencer launched its new Schwopping eco initiative with the help of Absolutely Fabulous's Joanna Lumley. The British high street chain is encouraging us to be green with its clothes recycling scheme, where customers donate unwanted items when they shop in store. The clothes will be recycled or resold by Oxfam, which currently offers a £5 M&S voucher when you take your old M&S pieces to the charity. This new campaign doesn't come with any financial incentives, but provides shoppers with the opportunity to help reduce the pile of 1 billion items added to UK landfills each year. Joanna told the Telegraph:
"We women, I think, know in our hearts that we shouldn't chuck stuff away. I think young people have been encouraged to buy something, wear it for months and throw it out, particularly if they're not very good at […] mending things. I donate a lot of my clothes to charity because I hate throwing things in the dustbin."
It's great to see a high street giant like Marks & Spencer's eco side. What do you think of the campaign? Watch Joanna's video about the new initiative when you read more.