Melinda Messenger Delightful Fragrance
Melinda Messenger Launches Delightful
Yesterday at the Vanilla Club in London, wife (yes, she and Wayne Roberts are reportedly working on things), mother of three and former glamour model Melinda Messenger launched her first ever fragrance called Delightful.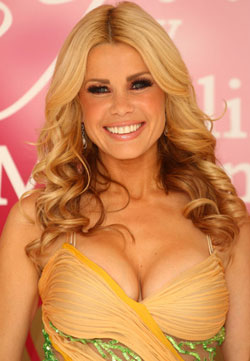 Although I haven't yet smelled the new scent, from what I understand, Delightful is a fruity and floral blend made from notes of fresh mandarin, blackcurrant and raspberry vanilla. It sounds awfully sweet, but yummy doesn't it? The fragrance is housed in a long and sleek pale pink, elegant glass bottle and is topped off with a brushed cold crown.
Melinda says, "This perfume is the perfect start to the day, I wear it first thing in the morning and it really gives you a lift and makes you feel fresh and delicious all day long. It's perfect for the evening too, when you want to feel special. It's a beautiful signature fragrance that I would not want to be without."
Delightful is currently available in a 100ml sized-bottle of eau de toilette for £19.95 in all leading perfumery retailers, however, it is not yet available online. Tell me, are you interested in trying another celebrity fragrance?