Minnie Mouse Designs at London Fashion Week
Designers Makeover Minnie Mouse For London Fashion Week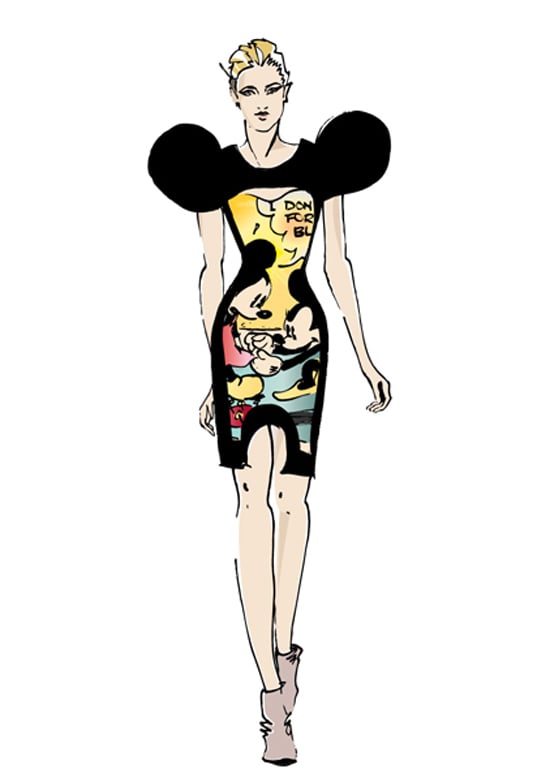 Minnie Mouse inspired outfits by London-based designers will be showcased at London Fashion Week this September. Disney has signed up some of the hottest names in fashion to get into the cartoon spirit, from Giles Deacon, Michael van der Ham and Richard Nicoll (whose sketch is pictured above) to milliner Piers Atkinson, jewellers Bunney, Tatty Devine and Husam el Odeh, and accessories designers Katie Hillier, Lulu Guinness and Terry de Havilland. We will also be treated to a Minnie Mouse collaboration during Meadham Kirchhoff's Spring 2013 show. The designs will then be auctioned off via eBay to raise funds for the British Fashion Council Bazaar Fashion Arts Foundation, which promotes relationships between fashion, film, music and art. Vice president of fashion and home for The Walt Disney Company, Marc Low said:
"Minnie Mouse and her unique style continue to inspire fans across the world. We're thrilled to collaborate with such visionaries to create these one-off designs. Surpassing trends, Minnie Mouse's iconic silhouette, signature bows and polka dots always remain in style, which is why she is as relevant today as the day she first appeared on the fashion scene. London Fashion Week is the perfect stage for Disney, one of the world's largest apparel brands, to put a spotlight on Minnie Mouse."
There are also rumours Disney is planning a Minnie Mouse inspired makeup range with the big beauty brands. I can't wait to see the designs come to life, what about you?