Miu Miu Autumn 2009 Paris fashion Week
Paris Fashion Week, A/W 2009: Miu Miu
Paris Fashion Week closed with a bang on Thursday with presentations by Louis Vuitton and Miu Miu. The younger sister of Prada seemed to come of age this season with an exotic themed collection. There was a very glamorous feel to the Autumn line with sleek silhouettes, pencil skirts and sparkly embellishment. Tapestry like prints dominated the show with plunging necklines and soft tailoring.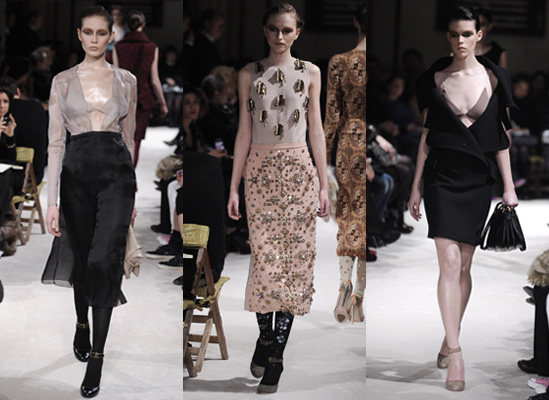 For images and thoughts on the pieces, just read more.
Generally hemlines were below the knee or calf length teamed with elegant heels or patent ankle boots. The footwear really stole the show (as always) as ankle strap, zip back heels cemented their place on the fashion radar. Bejeweled tights were also prominent offering a key accessory trend for the cooler months.
Aside from exposed bras, this season saw Miu Miu unveil a new elegance bringing timeless dresses in to the contemporary age with embellishment, prints and carefully draped fabric.