Miuccia Prada is Interested in a Career in Politics
Miuccia Prada for Prime Minister?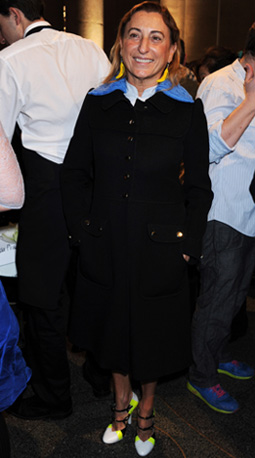 Miuccia Prada has been speaking to WWD today about Prada's growth within China. The designer recently adapted a collection the Chinese market, she explained, "Here, they don't love cotton uniforms, so we enhanced the part of the show [made with less expensive materials]. In a country like this, there is a special desire for rich products. A [lower-end] product might not be well received."
When asked about matters closer to home in Italy, Miuccia was reluctant to reply. "I prefer not to speak about Italy because you risk saying banal things.…Regardless, Italy is always an exceptional country, so…I have no intention to speak badly about my country." She expanded on her love for the country before hinting that a career in politics was not off the cards. She explained,

"Because politics have always been a little of my passion. And now I [could] use my work as a tool to do things other than fashion."
Miuccia already has a PhD in political science and has previously been a member of the Communist Party, so is not ill equipped for a career in politics. Would you like to see her try something like this?