Modernist London Fashion Week Spring 2009 Mango
London Fashion Week, Spring 2009: Modernist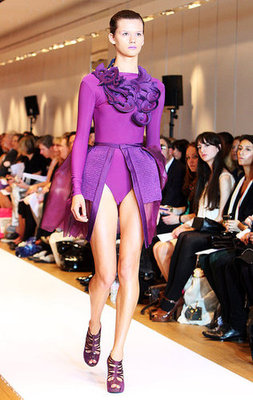 Under the unforgiving bright white lights of the Mango store on Oxford Street, Modernist presented their Spring 2009 collection. The show space was harshly lit with black mirrored columns breaking up the catwalk. Pop star Will Young sat in the front row as design duo Abdul Koroma and Andrew Jones revealed their incredibly feminine collection.
The show opened with a number of chic white dresses with intricate appliqué of carefully cut out swirls. The colour palette increased introducing neon pastels and violet first introduced with a pair of elbow length gloves.
Despite the soft, feminine feel of the collection there were gothic undertones with the decorative details. Many of the looks were complimented with soft wedding hats revealing the inspiration behind the line. I was not wowed by the designs, although I was impressed by the basic pieces and there was a great squishy purple handbag that I'll be sure to look up come January.