Mulberry Report Increase in Sales in 2009, Waiting List for Alexa Bag 2009-12-10 04:00:38
Fab Flash: Mulberry Reports An Increase in Sales
Whilst much of the world is still panicking about the recession, one British company is enjoying a dramatic increase in the run up to Christmas. Mulberry may not have won anything at last night's British Fashion Awards, but they have just announced a 16% hike in sales in the first half of the year.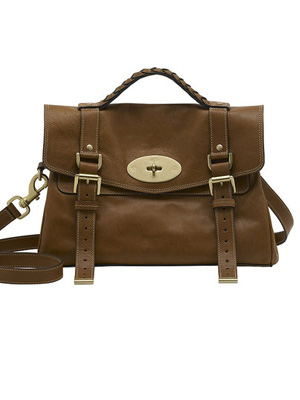 What's more, Mulberry also reported UK retail sales for the 10 weeks to December 5 were up 46% compared with 2008. The Bayswater (which featured in my top It bags of the decade), Mitzy and the new Daria bags have been in particular demand.
In September, the latest must-have accessory was unveiled as Alexa Chung had a bag named after her (pictured)! She spoke to me about the arm candy saying that she was excited and already had two. The bag, which arrives in store next month, already has an impressive waiting list. CEO Godfrey Davis commented, "It is great still to attract a waiting list. We remain a little cautious about Christmas but we are doing so well because shoppers now demand quality."