Must-See: Gillette Towels Use Grass as "Body Hair"
Now, Beach Towels Come With Body Hair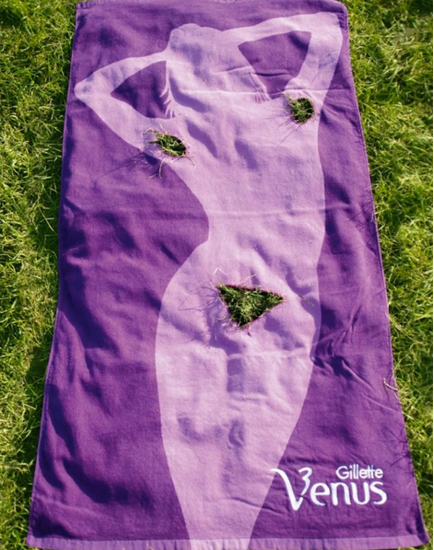 In Germany, Gillette is trying a whole new kind of guerrilla marketing to get people shaving. The company's marketing agency in Deutschland says that they've put thousands of these grass-as-pubic-and-pit-hair towels out in public spaces all over Germany.
I like the idea, although I'm not sure BBDO is really conveying Gillette's message effectively here. I mean, the fluffy grass looks so nice and fresh that it almost makes me want to stop shaving, and there's no grass/hair for the legs. How many women are going around with hairy legs and plenty of underarm and nether hair? Still, it's attention-grabbing. Do you think this is smart advertising, or could BBDO have done better by Gillette? Oh, and if you want to see the guy version (yes, they're equal opportunity!), just keep reading.