Naomi Campbell Speaks Out About Ethnic Diversity on the Catwalk, Minority Model
Naomi Campbell Speaks Out About "Minority Models"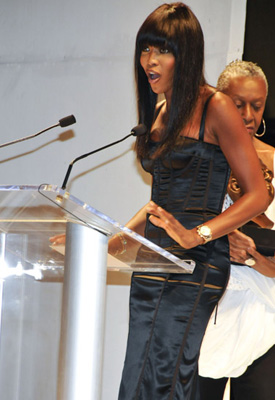 Naomi Campbell has long pioneered ethnic diversity on the catwalk having received a boost to her own career from Yves Saint Laurent. The British born model was part of Italian Vogue's historic issue last Summer, but this weekend she spoke out about how there is still a great "injustice" within the fashion industry.
Speaking at the 4th Annual Thurgood Marshall College Fund Front Row Fashion Show she explained, "There is a small group of people whose minds we have to change because we are living in a multicultural society."
Naomi added, "Nelson Mandela always told me to speak my mind and the consequences will take care of themselves." She received a fashion icon award at the event which also honoured makeup artist Sam Fine, Oprah Winfrey's hairstylist, Andre Walker and the late Michael Jackson. Do you think that more should be done for minority models in the industry?