Naomi Watts Interview For Pantene Great Lengths
Naomi Watts Shares Her Natural Beauty Tips and Tricks
Naomi Watts became the new face of Pantene's Flat to Volume collection last month, and yesterday she celebrated the appointment with a kickoff party in New York. She took the stage to speak about her latest honor and also introduced a short film about Pantene's Beautiful Lengths program, which encourages women and men to chop off and donate their locks to make wigs for cancer patients — impressively, over 20,000 real hair wigs have been donated to the American Cancer Society so far. We have a behind-the-scenes look at Naomi's shoot for Pantene, and she told us all about her beauty routine, the products she can't live without, and how she likes to keep makeup and hair care easy and quick! Naomi said: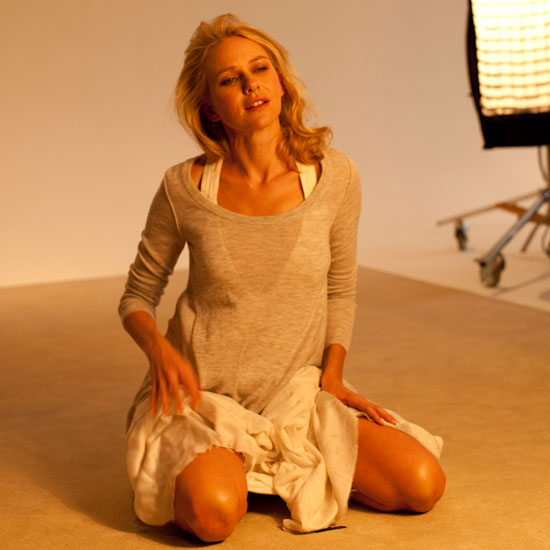 On the one beauty product she can't live without: "I have to wear mascara or I have my eyelashes tinted because my eyelashes are completely blond. And my eyes just disappear if they're not framed well."
On how she changes her beauty routine for Summer: "Loads of sunscreen, just loads of sunscreen. The humidity just makes my hair curly, definitely and I just kind of go with that."
On her day-to-day hair routine: "It's not very much. I don't have the time, skill, or interest, really. So even before having kids but now it's really shrunk down to a bare minimum. That's why I expect a lot out of my shampoo and conditioner. But I will, if I'm doing it myself, use the triple action mousse. And then if I'm going to work and I know that I'm going to get hot irons all over the place then I'll use a little bit of the heat protector and that helps."
On picking up hair tips from working with pros for years: "You would think so, right? But I just have never done my own hair. I can't even blow-dry it. I'm a ponytail kind of girl. The best one for me is just the scrunch. Because I actually don't mind the look of, not unruly, but beach-y looking hair, slightly undone. I don't like big bouncy hair."
To read what Naomi said about getting ready to go out and the start of working with Pantene, just read more.
On what she does to look fancier to go out: "On my own time, I'm never wearing foundation. Even at night I'll just put lipstick and mascara and rouge and call it a night."
On how she came to work with Pantene: "I just got a call saying they were thinking about me and I was excited. I just thought, 'Wow, I didn't ever think I had good hair so why would they choose me?' And I think that's the whole point is that everyone should be able to have good hair. If it's well-treated, you too can have the volume and shine and I've got fine hair. So the product line that's specific for my hair type works very well with it. [You have to] stay consistent; it's not a magic potion that one uses and then overnight will have extremely different hair. It's a commitment. It's a process and I started using the products about a month ago and I have to say my hair has grown more because I'm treating it well."