Nars 2009 Autumn Collection
All Aboard! The Nars 2009 Autumn Colour Collection Is Here
Not only does this year mark the 15th anniversary for Nars Cosmetics, but last Monday was the highly anticipated launch of the brand new six-item Autumn 2009 Colour Collection. The inspiration behind the goodies came from none other than the young and precocious icon, Lolita. François Nars was "looking for a model who could represent the modern, independent woman, but who also had a girlish, innocence about her."
It's funny, because I thought the ad campaign doll looking model was Lily Donaldson, but it's actually a Canadian beauty named Heather Marks whose career began in 2003 with Givenchy. The photographs were taken in New York City by François Nars himself, and Heather is wearing the products from the '09 line whose names incidentally were influenced by Nars' pursuits and interests, yet they don't necessarily have any direct correlation to Lolita.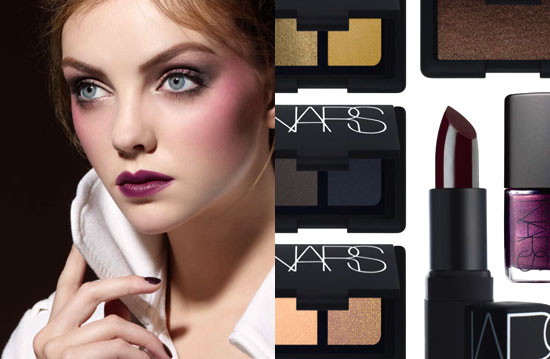 My favourite product is a nail varnish called Tokaido Express (£12.50). From a distance it looks black, but up close it's a purple shade with gold flecks that look rich, exciting and ridiculously chic. Wearing this polish is akin to wearing a fabulous cuff or statement piece.
For individual images, plus a description and the cost of each of the products, just, read more.
Fast Ride Lipstick: (£17) is an edgy, dark mulberry (and totally intimidating lipstick) that falls somewhere between an intense stain, and a gothy purple. What I love is its that the sheen keeps it looking fashion forward and seductive.
Mekong Single Eyeshadow: (£15) is a must for those with green or hazel eyes. The black-brown shadow contains rose gold flecks that make green eyes pop!
Silk Road Duo Eyeshadow: (£23) is a new pair of powder shadows that were influenced from traditional damask fabrics. One side houses a frosty pink whilst the other side is a rosey gold with golden shimmer.
Brumes Duo Eyeshadow: (£23) is another new powder shadow duo that has a matte charcoal shade one side (great as a liner or for the ultimate smoky eye) and the other side is a sparkly sky blue hue.
Indian Summer Duo Eyeshadow: (£23) is the most fashion forward of the eyeshadow pairs. Inside there's a frosted khaki shade beside a bold, matte, mustardy colour.
Tokaido Express Nail Polish: (£12.50) is black-plum varnish enhanced with finely milled gold sparkles and is named after Japan's famed high-speed railway. From afar you'd think it's black, if you look a little bit closer, it's far more interesting!