New Fresh Soy Face Cream
New Product Alert: Fresh Soy Face Cream
New from Fresh is a lightweight Soy Face Cream (£28) which can be used separately or in conjunction with their famous Soy Face Cleanser. I was surprised to learn that Fresh was the first company to use soy in their products, but from what I've seen so far, I wish more brands would catch on! I tell everyone who will listen about the face wash because it's the only thing that gets my mascara off without stripping my skin or having to even slightly pull on my eyes.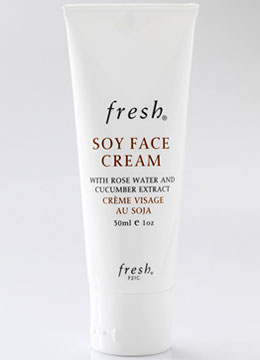 The face cream is also incredible as it has a better, perhaps improved scent than the cleanser. It contains cucumber extract, rose water and meadowfoam, to give it a fresh (no pun intended) and slightly sweet air.
The cucumber however isn't there only to make the product smell pretty. Its acts as a cooling agent, reducing redness and inflammation whilst hydrating. The rose water helps restore, soothe and tone, and the meadowfoam, jojoba seed oils, red, white and green tea complex, and vitamins A, C, and E help detoxify, nourish and soften the skin.
Lastly, it's free of parabens and the fragrance is all natural. I love how it absorbs quickly and that I get a little bit of a dewy finish, which is a perfect base under my makeup. What's your favourite new skin moisturiser?