New Illamasqua Powdered Metals
Coming Soon: Illamasqua Powdered Metals
Due out 13th July is a new face powder from Illamasqua called Powdered Metals (£22). At first glance it looks similar to a bronzer or a large vat of loose shimmer shadow, and actually it's both of these products and a whole lot more! I love it because it's multi-purpose, and in the face of a credit crunch, let's face it, individual beauty products just aren't as practical.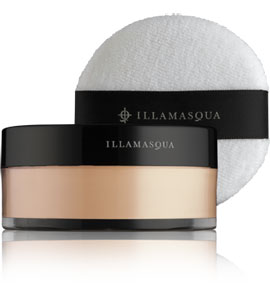 Powdered Metals will be available in three shades (Erzule, Bebhionn and Thalia) to best suit varying skin tones. Unlike the intense star product from the Sirens Collection called Liquid Metals, it was designed to create a golden sheen (not shimmer) that makes you look like you're glowing from the inside out.
It can be worn all over the face, as a body shimmer, an eye shadow or simply dusted along your collarbone and in your hair for a hint of the Midas touch. Personally, I like wearing it on the highest parts of my cheekbones, the bridge of my nose, temples and chin as a highlighter.
How do you like to wear your metallics? For a description of each of the shades, read more.


Erzule , the Voodoo Goddess of Beauty, is a goldeny bronze with a brown base that looks best on those with olive or ebony skin tones.
Thalia, the Greek Goddess of Poetry, is a warm bronze with a gold undertone that is best suited for medium skin tones.
Bebhion, is the Irish Goddess of Pleasure, is the lightest bronze shade with pink undertones. This looks great against pale or fair skin.