New Mascara Review of They're Real from Benefit
Product Review: They're Real from Benefit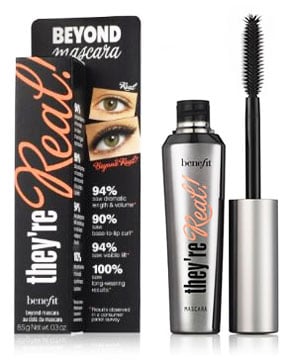 It's been a banner couple of months for mascara. First I discovered Fibre Lash from Modelco and now testing out a mascara from Benefit, one of my favourite cosmetic brands called They're Real! (£18.50). It launched last quarter and promises to plump up your lashes to look as though you are wearing falsies.
The key is the rubbery style brush that has been designed with staggered domed-tip bristles to grab the lashes (even the tiny ones in the corners of your eyes) and place product close to the root. Also, the mascara itself is a super jet black colour that dries to a glossy finish whilst lengthening, curling and separating each of your lashes too.
After testing it out a couple of times, I give They're Real a favourable review. The pro's are that it doesn't flake unlike many of the other leading brands on the market, and it delivered volume and length like it promised. The drawbacks however, received two half point demerits leaving me with a total of four out of five stars. One is for the clumping (when you apply more than two coats) and the other is for the elbow grease required in the removal. It's not that it's terribly difficult to take off, it's just that you definitely need an eye makeup remover as opposed to just using a cleanser. What mascara are you currently using that you love?