New Product Alert Lancôme 10th Anniversary Juicy Tubes
New Product Alert: Lancôme 10th Anniversary Juicy Tubes
Ever since they first launched in 2000 I've been hooked on Lancôme's Juicy Tubes, so I was excited to see they are launching a new range to celebrate their 10th anniversary. The special limited edition range has been designed by Japanese Artist Yayoi Kusama and is set to go on sale exclusively at Debenhams on April 1st (£10).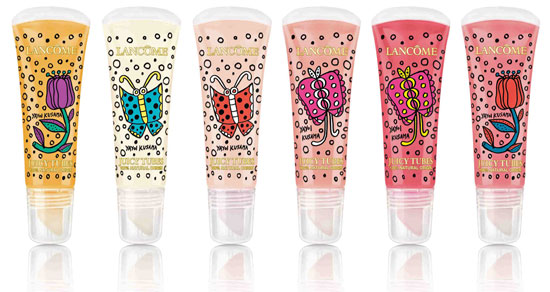 To get the juicy details, just read more.
The new collection includes Pop Art Hazelnut, Happy Honey, Rose Blossom, Dot Apricot, Crazy Raspberry and Swing Pink flavours, all decorated in Kusama's iconic quirky style. Lancôme has also updated its formula for the range. Each gloss is now 100 percent natural, made with shea butter and honey to hydrate, and coloured and fragranced using only natural components.
I managed to get my hands on samples this week and I have to say, I'm already in love. Kusama' designs are fun and graphic with little hand drawn flowers and butterflies to decorate. The glosses themselves have a much more subtle scent than the original Juicy Tubes because they're naturally fragranced, which I actually like, and the new formula is also great. They leave my lips shiny and moisturised.
Photo courtesy of Lancôme