Nicola Formichetti and Lady Gaga Work Together at Thierry Mugler
Formichetti is Reinventing Thierry Mugler With a Little Help from Gaga
Nicola Formichetti has helped Lady Gaga to rise to fame with some show stopping ensembles (he styled her in the infamous meat dress), and now she is returning the favour. Formichetti was announced as the new creative director last Autumn, and is about to present his first collection at Paris Menswear fashion week. The show will be the premiere of Gaga's new track which she has remixed especially and tailored to the collection. The show will be streamed via the Mugler website tomorrow at 5pm. Formichetti explained the collaboration, "I want people to think, 'OK, there's something new happening.' I want people to get excited again, not only fashion people." Gaga is expected to be more involved in the womenswear show in March and she already has some custom made Mugler costumes.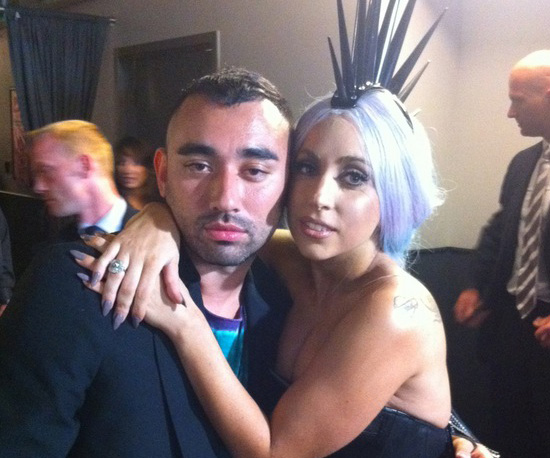 Formichetti has been looking in to the archive of Mugler and is a big fan of the brand, but doesn't intend to repeat anything, he said, "It was perfect for the time. I'm going to do something for today and the future." He still wants to stay true to the dramatic silhouettes for which the label is famous but added,

"I want to give power to the people in a more human way. They need to feel confident inside. He was about superhumans. For me, it's a little more emotional, romantic. I want to give dreams and fantasy and all those things — and I want people to wear those clothes."
He has released an image giving hints of what to expect from the collection which features model Rick Genest who has tattooed his entire body to look like a skeleton. Will you be tuning in to watch the show tomorrow?
Source: TwitPic User Formichetti