Nicolas Ghesquière, Latex, Spring 2009, Balenciaga
Fab Blab: Why Nicolas Ghesquière Loves Latex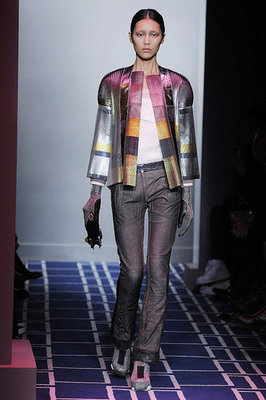 Balenciaga's Creative director Nicolas Ghesquière has been explaining his Spring collection and in particular his use of latex. "Usually, latex evokes sex and S&M but I didn't want to say that at all. The rubber is not intended to touch the skin, there is silk in between. It's a softer image, not about fetishism at all."
Ghesquière went on to explain the eco benefits of using the fabric. "I'm not saying I'm Stella McCartney or anything but, although it's not seen that way, latex is, in fact, very noble because it comes from trees. It's a natural texture." The Spring line used latex for jackets and dresses, the latter of which was inspired by Coromandel screens.
For Autumn/Winter 2009 Ghesquière hinted at moving on to using lurex. I'm sure he'll do it in a way that will leave us all lusting after the unusual (often unflattering) fabric.