Northampton University at Graduate Fashion Week 2009
Graduate Fashion Week: University of Northampton
If you weren't quite awake yet for the first Sunday show, you certainly were after five minutes. The impressive catwalk presentation opened with Roxanne Pitteway's biker chick collection with skin tight leather trousers, quilted details and sculpted origami folds adding snail-like shells to the back of jackets. Keeping the momentum going was Hannah Hutcheson with her fun neon accessories including killer heels, bib necklaces and oversized patent-patched bags.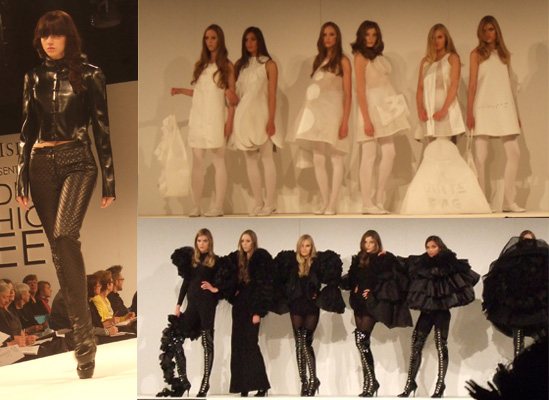 To hear more about Northampton, just read more.
Carly Booker made me smile with her romantic, Rob Ryan style collection. She produced an entirely white line with cut out detailing spelling out 'I am a white dress' and similar sentimental phrases. The pieces looked to be produced from paper with cute trapeze shapes. Next Laura Heron shaped herself as the next Alice McCall with feminine yet quirky designs using volume, ruffles and soft pleats.
The show closed with a memorable collection by Nilupul Hettiarachahige with black ruffles and rosettes forming a cropped jacket with dramatic train and a rose dress of two giant flowers. Overall, the first part of Graduate Fashion Week included a lot of leather which was shaped and sculpted in to a range of pieces. A tip for the Autumn, perhaps?