Northumbria University at Graduate Fashion Week 2009
Graduate Fashion Week: Northumbria University
Students from Northumbria University headed to Earls Court on Sunday evening to present their graduate collections. The catwalk had a monochrome makeover for the show as the clothes brought plenty of colour. The show opened with Nicola Morgan's jigsaw designs showcasing designs which looked like they'd literally been pieced together. The detail was kept quite subtle on this formalwear, but a quick demonstration as a model ripped off a perforated section proved the versatility of these clothes.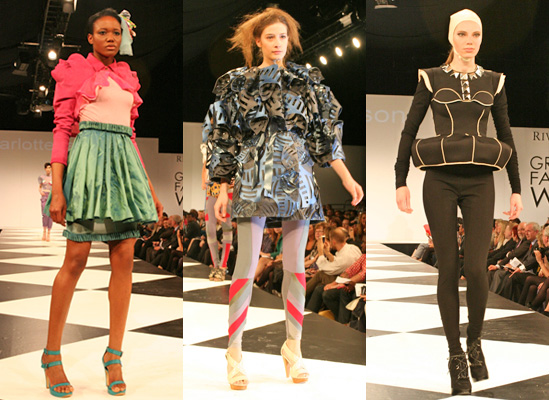 For further images of the show, just read more.
Ruth Davis had fun with prints for her designs which mixed Eley Kishimoto and Celia Birtwell style textiles. Charlotte Simpson also played with colour for her '60s influenced line. She used applique patches, oversized eyelets and geometric patterns.
Both Gabrielle Schoenenberger and Amber Little used a bright palette for their designs which included childlike pictures. Amber created streetwear whilst Gabrielle went for a more dressed-up approach. What do you think of this graduate collection?
Photos by Kirsten Borst