Nottingham Trent University at Graduate Fashion Week
Graduate Fashion Week: Nottingham Trent University
Nottingham Trent University opened the second day of Graduate Fashion Week 2009. The university famously associated with Sir Paul Smith always presents a good selection of students and today was no exception. There was a wide range of styles on show for both mens and womenswear including many knitwear designers.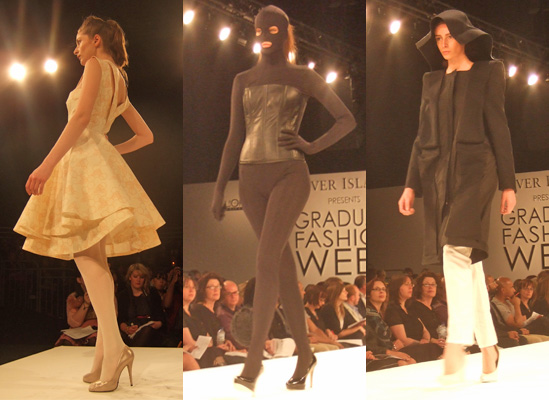 Rosie Ray created the perfect collection for a rainy day (like today) with ombre colours which effortlessly blended through earthy tones. Subtle detail like cage arms added edge to the classic pieces. The suede minidress was a definite stand out piece.
For further images from the show, just read more.
Many students create sportswear for their final collections which is a great idea, but difficult to pull off. April Smith managed this feat with flying colours with her American football inspired pieces. They featured airtex detailing and big rounded shoulders – not to mention a fair amount of metallic lamé.
Ayako Onikubo took inspiration from the British weather with her rain themed collection. Her outdoor wear merged plastic and grey knits for a solution to the damp weather.