Olivia Palermo Talks Fashion Week Must Haves and More at NYFW!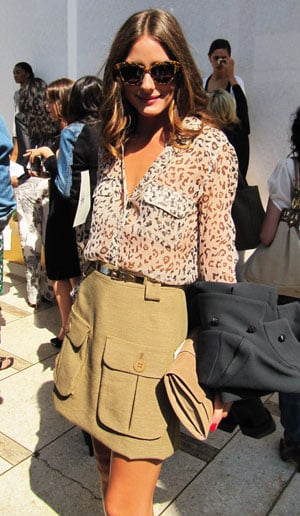 Just when we thought Olivia was nowhere to be sighted at New York Fashion Week, we spotted our girl crush at Rachel Roy's Spring presentation. As expected, Palermo culled together a fantastic ensemble wearing a sheer leopard print top and clutch by Reiss, Mulberry pocket skirt, and although you can't see it, a hot pair of purple platform sandals by Charlotte Olympia. After creating a photographers frenzy with her arrival, Palermo took time out to chat with us. Fun fact: her favorite Karaoke songs are from Stevie Wonder and Frank Sinatra. Listen up for more Olivia tidbits:
On Spring '12 collections: I'm looking forward to seeing some really nice evening gowns. I really need to focus on building my evening wear collection.
On Rachel Roy: I love everything Rachel does. I haven't seen the full collection yet, but there was one black look with an amazing print on it. I love it.
On other shows she plans on attending at NYFW: I'll be at Tibi, Marchesa, and I think that's it!
On what she can't live without during Fashion Week: My Blackberry and iPad charger because it always seems like I'm on empty battery.
Photo courtesy of Chi Diem Chau

Source: Olivia Palermo Talks Fashion Week Must Haves and More at NYFW!