Online Sale Alert: Urban Outfitters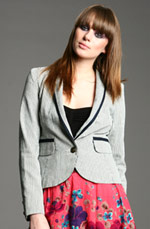 Every day a new store seems to announce their online sale, which is great news for all you bargain hunters! Today is the turn of Urban Oufitters, which I am especially excited about as I m in love with this nautical blazer.
As always, Urban Outfitters has a great range of printed t-shirts including Led Zepplin and shoe print styles. There are also plenty of funky dresses and skinny jeans. When shopping the sales it's important to consider what you might be wearing next season, for example, items such as a blazer are good because it will see you through to Autumn. Also, any item that you can layer is always helpful! See below for just some of the items available.