It Was Only a Matter of Time: See the Frozen-Inspired Wedding Dress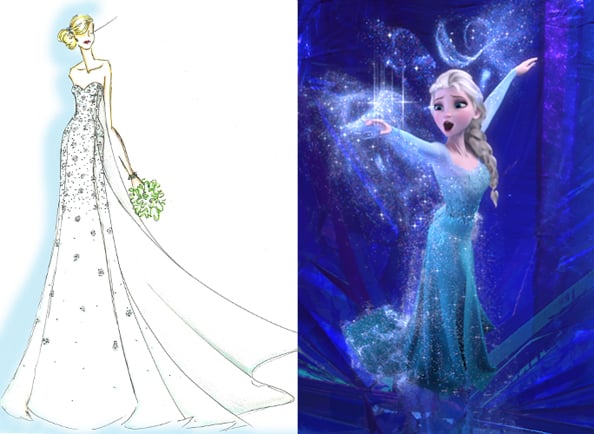 Source: Disney
Don't let it go just yet. Disney has found a new way to keep the Frozen frenzy going — this time with a wedding dress inspired by the hit animated flick. In conjunction with Disney's consumer products division, bridal label Alfred Angelo has created a princess-worthy gown modelled after the famous "Let It Go" moment when Elsa embraces her icy powers. And it just hit the runway.
Source: Getty
Source: Getty
The ice-blue strapless sheath gown, which debuted today at New York's Spring 2015 Bridal Fashion Week, features a sweetheart neckline and cascading glitter embellishments. And it looks to also have a coordinating flower girl version.
Source: Getty
"A character like Elsa is a huge inspiration for any designer," chief creative officer for Alfred Angelo Michele Piccione told InStyle. "She is beautiful and elegant, and her inner beauty shines through when she is ultimately not afraid to embrace who she is with confidence and poise."
It's set to go on sale in January, and there's even talk about a wedding dress in the works for fans of Frozen's Anna, as well.
Of course, this isn't the first time Disney has given brides opportunities to have a literal princess moment at the altar. The Frozen design will be a part of the label's successful Disney Fairy Tale Bridal collection, which has looks for those more into Jasmine, Ariel, or Aurora.