Orla Kiely on the Royal Baby and Dressing the Middletons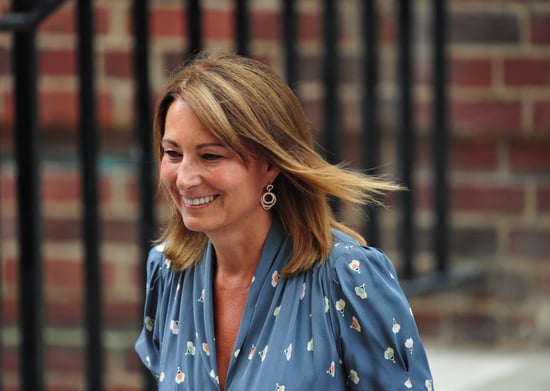 All things considered, Orla Kiely had a pretty good Tuesday. The British designer not only introduced the press to the latest entry in her long series of bestselling collaborations, but also was inundated with a lot of good press when Carole Middleton — grandmother to the future king of England, pictured above — wore one of Kiely's dresses to meet the newborn royal.
Kiely spoke with us about dressing the royal family, what she thinks Kate and Will should name their new son.
POPSUGAR Fashion: You've dressed the Duchess of Cambridge, and on Tuesday her mother, Carole Middleton, wore one of your dresses to meet the royal baby! Is it a point of pride when they or other celebrities wear your clothes?
Orla Kiely: Of course it is! It was a surprise, because we didn't obviously know. I think it's rather lovely. I think what we do is kind of an interesting thing, because it doesn't really have an age to it, and that's rather nice. And I love the fact that both daughter and mother can wear it. And she's very elegant. And she does look great. She looked great in it, so I was pleased. I'm happy.
PSF: What do you think they're going to name him?
OK: Someone else has already asked me that! I wonder if it might be George, after the [queen's] grandfather?
PSF: You have a home line and of course clothing and accessories. Is there anything you want to design that you haven't yet?
OK: I love doing home. Accessories and clothing is where we started, and that kind of is what drives us, and we're always looking forward on that one. Home and everything else is kind of part of the brand. The whole fashion and accessories line is where we're always thinking of new ideas, which then feeds into everything else we do.
PSF: Do you think all young designers will or should eventually develop into lifestyle brands?
OK: No, not necessarily. I don't think it's important for all, but because we do so much with print; I think our prints kind of cross over the categories, so it was easy for us. I wouldn't have wanted to force it if it wasn't right. And I don't want to do anything that I think is not appropriate.
PSF: Are there any pieces from this collection you plan on using in your everyday life?
OK: I already have a sample of the '60s stem, which is the grey and cream with orange around the edge. I love that one. And we're going to kind of do more of this, so it's very exciting. We've already done a few more prints for them!