On Our Radar: Fifi Chachnil for Topshop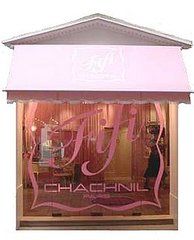 Vintage style underwear is having a bit of a revival and I can't help but feel that Amy Winehouse constantly showing us her bra has a part to play. Yesterday WWD announced that classic French lingerie house Fifi Chachnil will be the next name to design a diffusion line for Topshop.
The first capsule collection for the store will be unveiled on 20th July with pieces being sold for half the price of Chachnil's main line. Early predictions for the line involve being embellished with coral rosebud bows and vintage black lace. We can't wait to see it!