On Our Radar: Giles for New Look Menswear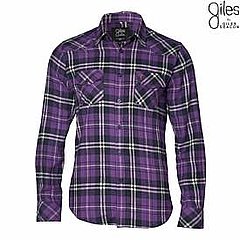 Until now Giles Deacon's capsule range for New Look has only included items for women. This week he launched Giles for New Look for men which includes lumberjack shirts, a puffa jacket, polo shirts and jeans.
However, the best thing about the collection is even though it's aimed at men it can definitely also be worn by women for a grungey-Olsens-look.
Alternatively, I'm sure any of the items would make a great Christmas gift. I particularly like the gold bat t-shirt (£12) and the canvas satchel (£25) both of which could appeal to men and women.
Giles isn't the only designer to offer a capsule range for men to the High Street. This week it was revealed that Matthew Williamson would be designing menswear for H&M and Antony Price launched a line at Topman.