On Our Radar: Kate Moss for Topshop High Summer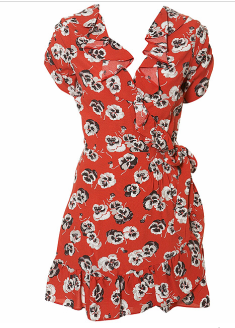 The sixth collection by Kate Moss hit stores this morning containing plenty of pretty summer dresses. She recently spoke out about her status as a style icon claiming to have a "thrown together look." The highlight of the high summer line is the sure-to-sell-out red pansy dress which has appeared in many publications. It is also available in purple but is quite pricey at £60. Also, the strappy folk printed dress (£45) is great, and perfect festival wear. There are a few tops in the new collection including pretty blouses and delicate cami tops.
There are lots of pairs of her trademark shorts including vintage silk short (£35) which would be hard to pull off. As always, let us know what you think of the collection, especially if you have already bought anything!