On Our Radar: Stephen Sprouse for Louis Vuitton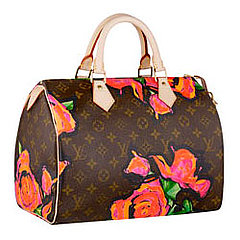 If the credit crunch hasn't hit you and you still have a few pennies left from Christmas then hold on to your loose change for a little while longer.
Stephen Sprouse for Louis Vuitton is launched on 15th January. The collaboration between Marc Jacobs led design house and the artist includes a number of "defaced" monogram day-glo bags as well as clothing items.
Spouse died in 2004 after battling lung cancer but this collaboration continues his distinctive style. The collection includes graffiti-tagged jeans with Day-Glo details, slouchy T-shirt dresses and fluorescent leggings.
Jacobs told Vogue, "I tried to use the things in Stephen's vocabulary, and give the collection the shape, silhouette and styling that Stephen would have done when he was at the top of his game. It really is a complete homage, and a complete combination of what is Louis Vuitton, and what is this legendary icon, and then what are the icons and the lasting aesthetics that Stephen left in the fashion world."
.