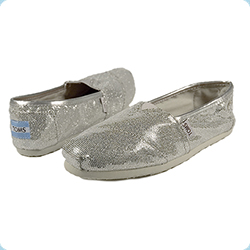 Treating yourself to another pair of shoes can often leave you with a slight guilty feeling in your mouth. However, how would you feel if you buying shoes would actually benefit someone in desperate need of a pair? Well, TOMS shoes is an LA based company who give a pair of shoes to a child is need every time they sell a pair.
The company was founded by Blake Mycoskie, who following great success with four previous companies decided it was time to give something back. Working with the charity Food4Africa, Mycoskie has already given out 50,000 pairs of shoes, he explains,

"Just giving the children shoes protects them from further infection and enables them to keep going to classes and get an education."
The shoes have been a big deal in the US for a while but they've just landed at Shoe Studio in Selfridges and will soon be available online. They cost from £25 to £35 and are available in a range of colours and fabrics.