On Our Radar: Victoria Beckham to Show at New York Fashion Week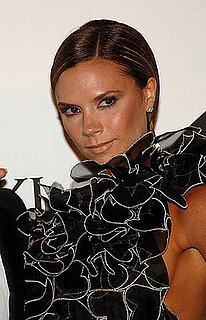 The rumour mill has been working over time for the Beckhams this week. Today, it has been implied that Victoria Beckham will show a collection at September's New York Fashion Week. Not content with ruling the denim and sunglasses world, it seems that Ms Beckham wants to get her fingers in another pie, dresses. She told WWD at the launch of her Prestige fragrance, "I'm working on a collection of dresses at the moment, which I plan to show in September."
The official schedule does not include her yet but we'll be sure to tell you when it is confirmed. She added, "It will be something completely different from what I've ever done. I'm just putting it together at the moment, but they will be very upscale dresses and likely will start at around $1,200 retail. I'm going to be using very expensive fabrics and finishes, lots of embroideries."
I think it would be great for Victoria to show. With the likes of Gwen Stefani and Lauren Conrad already producing catwalk lines I see no reason why Victoria wouldn't follow suit. New York fashion week runs from 5th - 12th September.
Source