PETA Names Worst Dressed Celebrities Who Endorse Fur in 2009
Worst Dressed Celebrities Are Named and Shamed
The catwalks in 2009 saw an increase in the amount of fur used in all of the fashion capitals. There were some theories for this increase, including designers being paid to use the animal fabric. Whatever the reason, The People for the Ethical Treatment of Animals (PETA) is determined to discourage celebrities from wearing it in 2010 by naming and shaming some of the worst offenders. Kate Moss, Catherine Zeta-Jones and Elizabeth Hurley are amongst those named in a poll along with Coleen Rooney, Alex Curran, Dame Shirley Bassey and the Duchess of Cornwall.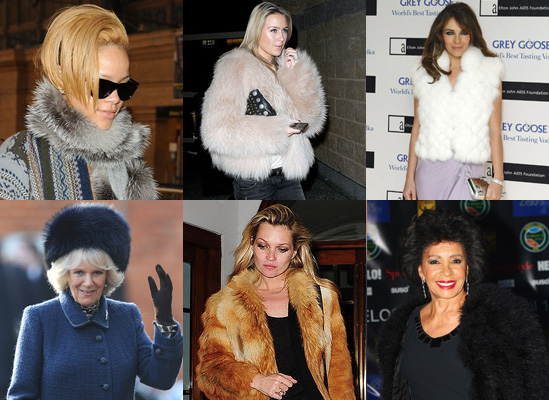 The winner will be chosen in an online poll and announced in February by Stella McCartney. Last year, Paris Hilton and Christina Ricci were nominated and changed their love of fur. Dan Mathews, vice-president of Peta commented,

"We've written to Rihanna in the hope that the furs she's been flaunting are fake, but it seems the cat's got her tongue. The Duchess of Cornwall, not to be thwarted by the fox-hunting ban, has gone hunting in her grannie's wardrobe. Then there's the old guard like Shirley Bassey, who has a skin-crawling fashion sense. Elizabeth Hurley's wardrobe is now as dead as her film career."
How do you feel about celebrities wearing increasing amounts of fur, do you think it's their right or should they change their ways?