Paris Fashion Week, Spring 2009, Gareth Pugh
Paris Fashion Week, Spring 2009: Gareth Pugh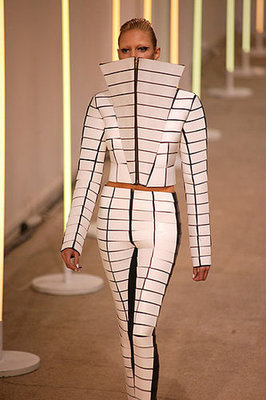 Gareth Pugh has been a highlight of London Fashion Week for several seasons and has developed a cult following as people are constantly amazed by his creative ability. This season, however, he took his show to Paris following winning ADNAM funding earlier in the summer.
I was curious to see how Pugh would adapt his designs for a Parisian audience. Despite his protests, the simple logistics of the situation (for example that the clothes were produced in Italy) meant that his designs would be slightly different. The show took place at the Palais de Tokyo with the likes of Carine Roitfeld, Solange Knowles and Emmanuelle Alt taking to the front row.
The gothic element of Pugh's previous collections still existed but it was halved as the monochrome pieces were white at the front and black at the back. Models taking to the catwalk for Pugh included Brits Jourdan Dunn and Lily Donaldson wearing pieces made from industrial fabrics.
To find out what Pugh had to say about the move to Paris plus images read more.
Pugh explained that his move to Paris couldn't have come at a better time. "Winning ANDAM came at the right time. I needed to get off the merry-go-round and get on the roller-coaster; I needed to kick myself out of the comfort zone that London had become and give myself a challenge."
Pugh's arrival in the French capital has been compared to McQueen's move to Paris for Spring 2002 but unlike McQueen, Pugh's show did not involve any wolves! Pugh added, "I feel a bit like a fish out of water, but Paris is well-trod territory for British designers, who are prepared to push the boundaries and they seem to be well-received here."
See below for images from the show. What do you think of the collection? Do you think it has been a smooth transition for Pugh?